Perhaps you're looking to buy Ableton Live but you're not sure which edition is right for you. If you're interested in creating music, purchasing music production software is the first step. Ableton makes it possible for aspiring musician to obtain industry-leading software without breaking the bank. Ableton accommodates for any budget by providing four different editions of the software: Suite, Standard, Intro and Lite.
Ableton Live Suite can be purchased for $749 USD and comes with all of Ableton's features and additional content. The next tier down is Ableton Live Standard which retails for $449 USD. For those just getting started in music production, Ableton Live Intro can be purchased for just $99 USD. To try before you buy, Ableton Live Lite is a free but limited version of the software.
In this guide, we will be breaking down the key features of each edition of Ableton Live and helping you decide which version of the software is right for you.
For a complete comprehensive breakdown of the features of each version of Live, you can visit the official Ableton website here.
Ableton Live

|

Suite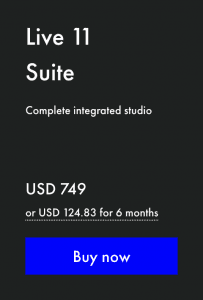 If you're looking for a digital audio workstation with all the bells and whistles, Ableton Live Suite is the way to go. It comes with Live's entire catalog of software instruments, audio effects and MIDI effects. Suite is the most popular edition of Ableton Live and is used by industry professionals around the world.
Suite includes an impressive 17 software instruments, 59 top-notch audio effects and 15 MIDI effects. It also comes with an incredible 70GB+ of additional sound content and has no limitations on audio and MIDI tracks. If you're after a truly elite piece of music software, Ableton Live Suite has everything you need to succeed as a music producer.
On top of the included library of creative content, Suite comes with a further 29 packs, providing users with thousands of additional instruments, presets and samples.
Suite is the only edition of the Ableton Live software that includes Max For Live which retails for $299 USD alone. Max For Live is a platform used to build instruments, effects, visuals, tools for live performance and more. If you're looking for value for money, we highly recommend investing in Ableton Live Suite.
Ableton Live Suite costs $749 USD (or $124.83 USD per month for 6 months). To purchase Ableton Live Suite, you can visit the Ableton shop here.
Ableton Live

|

Standard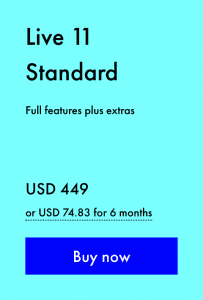 If your budget can't quite extend to the cost of Suite, Standard comes with an amazing selection of features for a little over half the price. With 6 instruments, 49 effect plugins and no limit on track count, the Standard edition of Ableton Live provides a fantastic balance between cost and included features.
The most significant difference between Suite and Standard is the amount of additional creative content. While Suite and Standard share many of the same workflow features, Suite comes with 23 more packs, 11 more instruments, 23 more audio effects and 2 more MIDI effects, not to mention Max For Live.
While the Standard edition of Live contains notably less instruments and effects than Suite, Standard also has the ability to host third-party plugins. There are hundreds of free instrument and effect plugins available on the internet if you're looking for further inspiration and ways to manipulate sounds. If you aren't prepared to spend the extra $300 USD for Ableton Live Suite, this is a fantastic way to expand your creative options without spending another cent.
Ableton Live Standard costs $449 USD (or $74.83 USD per month for 6 months). To purchase Ableton Live Standard, you can visit the Ableton shop here.
Ableton Live

|

Intro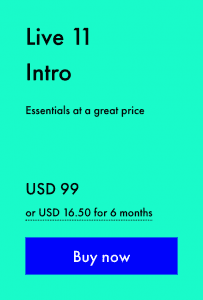 Ableton Live Intro is perfect for musicians on a budget. For only $99 USD, Live Intro comes with 4 software instruments, 21 audio effects and 8 MIDI effects. Expand your library of samples with the additional 10GB+ worth of sounds. The low price tag includes all the essential features, effects and tools you need to produce full-length tracks. Intro is perfect for beginner producers or avid performers.
Don't let the small number of included instruments and effects deter you. Just like other editions of Live, Intro also has the ability to host third-party plugins so you can expand your library of presets and effects at no extra cost.
Unfortunately, the small price tag comes with some limitations. Intro allows a maximum of 16 audio and MIDI tracks, limiting the amount of layers permitted within your projects. It also only allows 2 return tracks in a single project. A maximum of 8 mono audio inputs and outputs can be used in Ableton Live Intro, in comparison to the 265 limit with both the Standard and Suite editions of Live.
Ableton Live Intro costs $99 USD (or $16.50 USD per month for 6 months). To purchase Ableton Live Intro, you can visit the Ableton shop here.
Ableton Live

|

Lite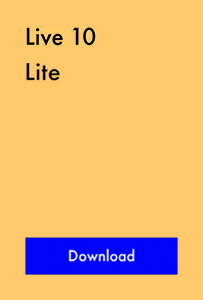 Ableton Live Lite is a free version of the software that lets you test out many of the features of Ableton without spending a cent. It is simple to install and has very few limitations. Lite comes with a generous 4 software instruments, 12 audio effects and 8 MIDI effects, as well as an additional 1500+ sounds. Ableton Live Lite is the perfect introduction to music production and live performance.
A Live Lite authorization code comes with a variety of third-party hardware devices (eg. MIDI keyboards and grid controllers) which enables all features of the software. It can still be downloaded and installed without an authorization code but you will not be able to export or save your project.
The main drawback of Lite is be allowed a maximum of only 8 tracks. This can limit a project's potential and inhibit you from expanding on ideas. While it is possible to export and group particular layers, producing a full length track using 8 tracks can be difficult and certainly restricting.
Currently, Ableton Live Lite is only available for Live 10. The Live 11 edition is expected to be released in late-2021.
If you'd like to try out Ableton Live for zero cost, you can download the Lite version of Ableton here.
Want To Know More?
Here at Live Aspects, we have dozens of useful lessons and tutorials created to enhance your music production skills and help speed up the learning process. You can access our huge range of music theory lessons and production tips and tricks here.