Xfer Serum is the most popular VST instrument plugin on the market. A large percentage of the top music producers around the world are using Serum as one of their main instrument plugins. If you're needing to know how to install Serum or simply looking to learn more about the plugin, then you've come to the right place.
In this blog, we'll be answering the biggest questions about Xfer Serum and learning how to install it in Ableton.
|

What Is Serum?

|

How Much Does Serum Cost?

|

How To Install Serum In Ableton

|

How To Add Serum Presets
Without further ado, let's get started!

|

What Is Serum?
Serum is an Advanced Wavetable Synthesizer designed and created by Xfer. It is a VST instrument plugin compatible with all major DAWs. Serum comes with an endless list of features including, but not limited to, an instantly recongizable and slick interface, 10 unique effects, powerful wave shaping tools and dual wavetable oscillators. It also comes with over 450 state of the art presets, 144 wavetables and can be used on both Windows and Mac devices. If you are a preset user, than Serum is a must-buy. 
|

How Much Does Serum Cost?
Xfer Serum can be purchased with a one-time payment of $189.00 USD. 
In collaboration with Splice, Xfer also offers a Rent-To-Own option. This new approach lets you use the full version of Serum right away, paying off installments of only $9.99/month USD until you own the plugin outright. You can cancel or pause your subscription at any time with no strings attached.
If you would prefer to try out Serum before committing to purchasing it, you can download the free trial version of the plugin here. The trial version gives you access to all features of the plugin but can only be used for 15 minutes each time it is opened.

|

How To Install Serum In Ableton
Step 1: Download Serum
Download the installer from your account page on Xfer's website or from the Splice client if you have purchased it using the Rent-To-Own option. You can also download the free trial version of the plugin here. 

Step 2: Run Installer
Next, we're going to run the installer. The Serum plugin will be installed to the default location on your computer. Below are the locations where plugins are installed by default on Mac and Windows devices:
Mac
/Library/Audio/Plug-Ins
Windows
C:/Program Files/VSTPlugins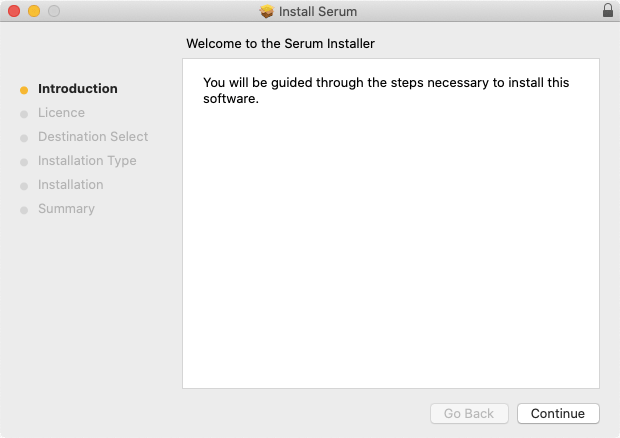 Step 3: Set VST Custom Folder
Before we run Serum in Ableton, we first need to set the VST Custom Folder so Live can locate Serum. It is likely you already have it set but if you don't (or it is located somewhere other than the default location), head to Live's preferences and select the Plug-Ins tab.
Next, enable 'Use VST2 Plug-In Custom Folder' then select 'Browse' and navigate to the default VST plugins folder on your computer (refer to Step 2). Once you have set the VST2 Plug-In Custom Folder, select 'Rescan'.
(Note: For older versions of Ableton Live, follow the above step but for 'VST Plug-In Custom Folder' instead)

Step 4: Load Serum
We're ready to open Serum! Head to the Live Browser, search 'Serum' in the search bar and select 'All Results' under the Categories heading. Finally, double-click on Serum to add it to a new MIDI track or drag & drop it onto an existing MIDI track.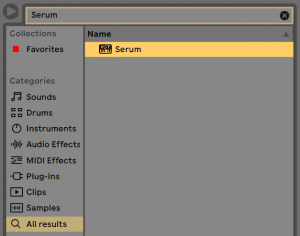 |

How To Add Serum Presets
Step 1: Copy Presets
To add Serum presets, start by downloading a Serum preset pack. There are thousands of free and paid presets available online. Once you have saved presets to your computer, copy the containing folder by selecting it and pressing [COMMAND + C] on Mac or [CNTRL + X] on Windows.

Step 2: Show Serum Presets Folder
Head into Serum, click on 'Menu' in the top-right corner of the plugin and select 'Show Serum Presets Folder'. Serum will open Finder/File Explorer.

Step 3: Paste Presets In User Folder
Lastly, double-click on the 'Presets' folder then paste your new presets in the 'User' folder by pressing [COMMAND + Option + V] on Mac or [CNTRL + V] on Windows. Restart Serum and enjoy your new presets!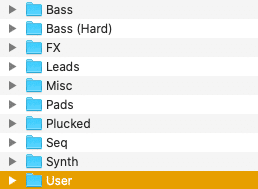 Want To Know More?
Here at Live Aspects, we have dozens of useful lessons and tutorials created to enhance your music production skills and help speed up the learning process. You can access our huge range of music theory lessons and production tips and tricks here.