Whether you are brand new to music production or a DAW veteran, BandLab comes with everything a musician needs to create music on the go. If you're looking for a free alternative to Ableton Live, Logic Pro or FL Studio, Band Lab is the best music production application available on iPhone, iPad and Android devices. With more than 37 million downloads, BandLab can inspire musicians of all skill levels to share and create music, as well as collaborate with other BandLab users.
Hi, I'm Ben from Live Aspects and in this review, I'll be unpacking all aspects of BandLab and helping you decide if this app is for you.
|

First Thoughts

|

Look & Feel

|

Sound Library

|

Navigation & Workflow

|

App Overview 

|

Track Options

|

BandLab's Tools

|

Final Thoughts
Without further ado, let's get started!

|

First Thoughts
Installing BandLab was quick and easy, taking up less than 100MB of space on my iPhone. All areas of BandLab were extremely easy to pick up and it didn't take me long before I understood how to navigate around the app. I was excited to see how I could employ my experience and understanding of other DAWs in BandLab and create songs to a professional standard.
I explored the app and was very impressed by the collaborative and networking aspects of BandLab, as well as the included audio content. I began previewing kits and experimenting with sounds and I found myself hooked for multiple hours. I discovered the immersive library of audio content that very quickly spawned a variety of ideas. The 16-track mix editor is essentially a multi-track digital audio workstation in your pocket.
I was particularly impressed by how easy it was to add live guitar and other instruments to my project. Recording with a traditional DAW can be a complicated process and require specific types of hardware. BandLab's audio effects instantly turned my mediocre vocal performance into a polished recording.

|

Look & Feel
BandLab has been beautifully designed using a minimalistic approach and an engaging color palette. Its simplicity stimulates creativity with the entire BandLab app intelligently organized into separate tabs and windows. BandLab's large fonts and smart color coordination makes it easy to lay down ideas and experiment with new sounds. Each track type has been appointed a particular color so you know immediately which element of your project you are currently working on.

|

Sound Library
From synthesizers and pads to sitars and horns, BandLab comes with an impressive library of more than 330 virtual MIDI instrument presets. Melodies, chord progressions, basslines and drum beats can be drawn or recorded into BandLab's piano roll. You can access BandLab's library of presets by adding a MIDI Instrument track to the mix editor.
BandLab also contains more than 15,000 royalty-free loops and samples. The Sampler instrument features customizable pads that can host up to 16 BandLab samples, audio from your phone or live recordings. The Sampler is perfect for creating original beats or experimenting with BandLab's pre-made kits.
The Looper instrument contains pre-selected loops that can be rhythmically triggered to perform tracks live. Each Looper kit features the stems of a complete song and includes filter, gater and tape stop effect parameters.
Unlike other music apps I've tried, the quality of BandLab's sound library is undoubtedly to a professional standard. When scrolling through BandLab's library, there were dozens of instrument presets and kits I knew could inspire me to create entire songs. BandLab's abundant library of audio content has something for everyone.

|

Navigation & Workflow
BandLab's layout and structure is simple and easy to understand which makes navigating through the application effortless. The collaborative and community-based aspects of BandLab are restricted to the tabs on the home page so users can focus on the creative aspects of the app when in the mix editor.
When creating and arranging in the mix editor, I knew exactly which track I was working with due to BandLab's track colour coding. BandLab makes it easy to find the perfect sound or instrument preset for your project by refining your search with the genre, key and feel filters.
BandLab has expertly condensed all the essential tools needed in a DAW into a screen just a few inches in size. Even crafting melodies in the piano roll is smooth and efficient. With traditional DAWs, large projects can often slow down your computer but BandLab's performance was consistent even as my projects grew.

|

App Overview 
|

Main Menu
Home Tab – See what's trending in the BandLab universe and what's new from artists you follow
Explore Tab – Discover featured releases, artists and playlists from millions of other BandLab users
New Project Tab – This is where you can access the creative aspects of BandLab. Create tracks, experiment with loops and instrument presets or take advantage of BandLab's tools
Notifications Tab – Get updates when you have new followers, likes or comments from other BandLab users
Library Tab – Here is where you can access all of your previous projects, collaborations and songs you've liked by other BandLab artists

|

New Project Tab
When you first open the BandLab, you can create a new project by pressing the red '+' at the bottom of the app. You will have the option to select one of BandLab's 7 different track options to get your started. You can also choose from BandLab's various Looper Packs, Sampler Kits and Vocal Presets.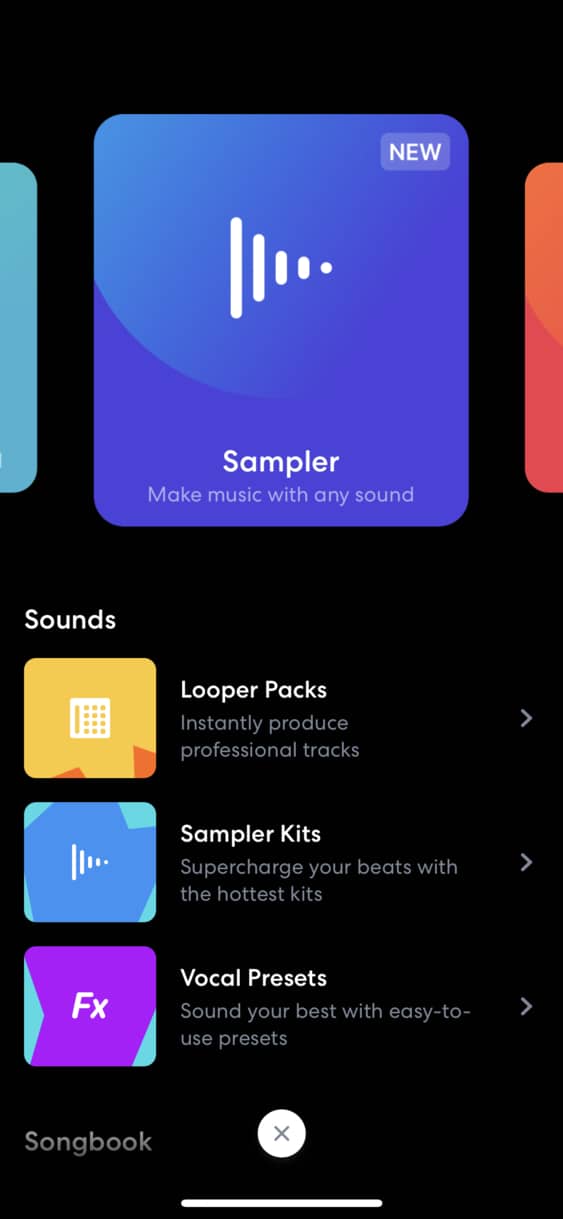 |

Mix Editor & Mixer
With a similar timeline design to Ableton Live, Logic Pro and other popular DAWs, the mix editor is where music is created. Each of your project's tracks are displayed on the left of the window while your project can be arranged in the timeline to the right. Click the '+' icon below the tracks list to add more tracks to your project. Create or record clips for your project by tapping on a track title and hitting the red record button.
Mute, solo, pan or adjust the volume of each track using your project's mixer section. You can access the mixer section by swiping right from the mix editor or by selecting the icon in the bottom left corner.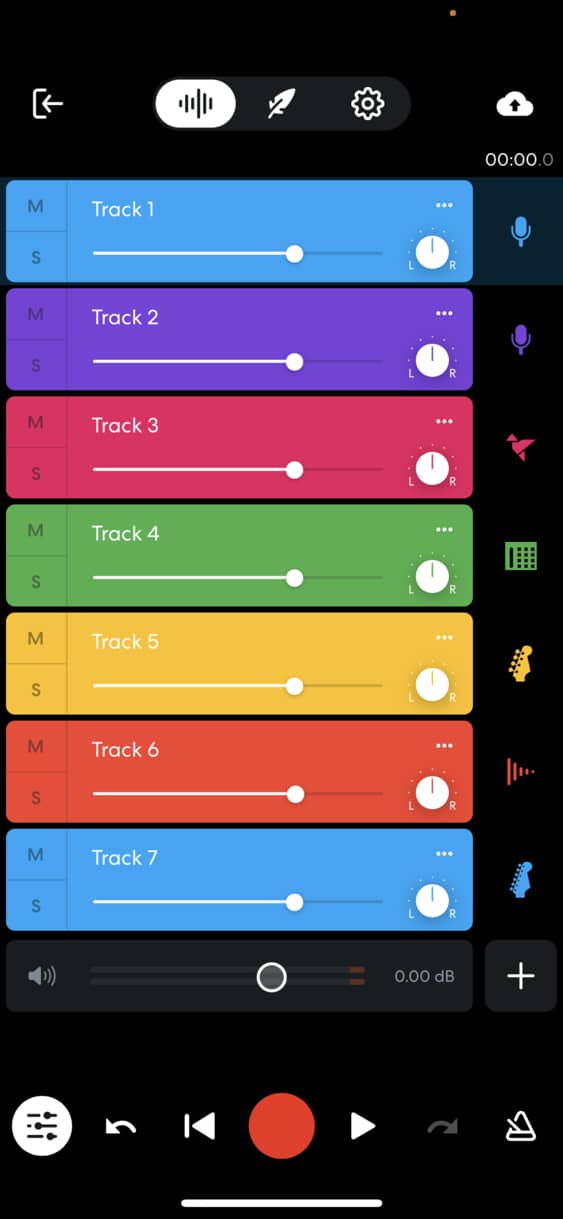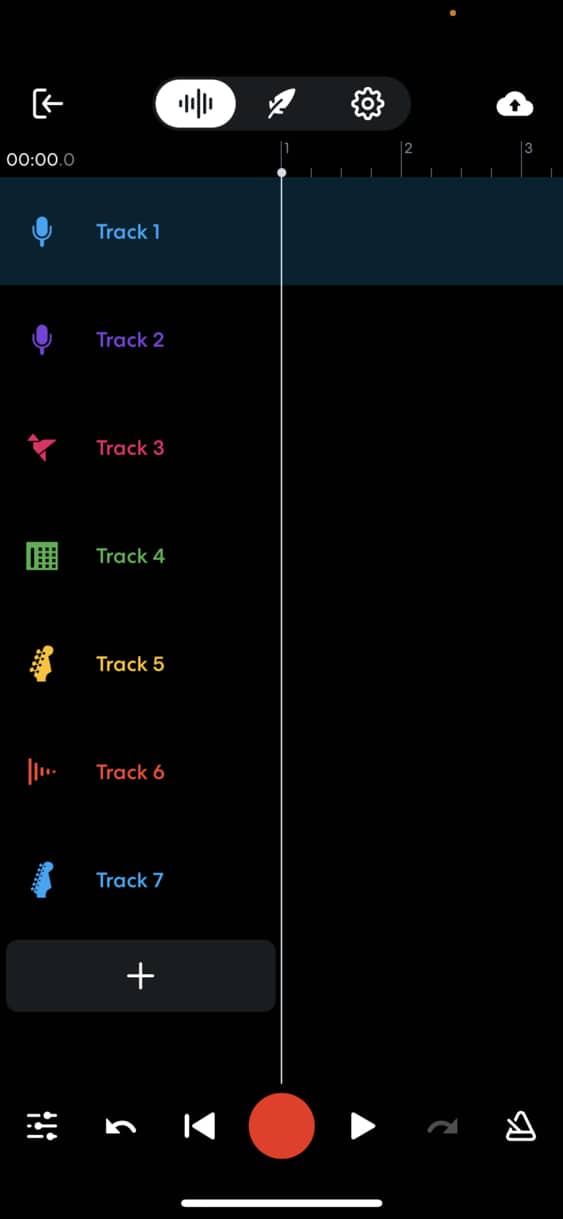 |

Lyrics & Notes Tab
Brainstorm lyric ideas and themes or write down notes as you playback your BandLab project. The lyrics and notes tab can be accessed by selecting the feather icon at the top of the project window.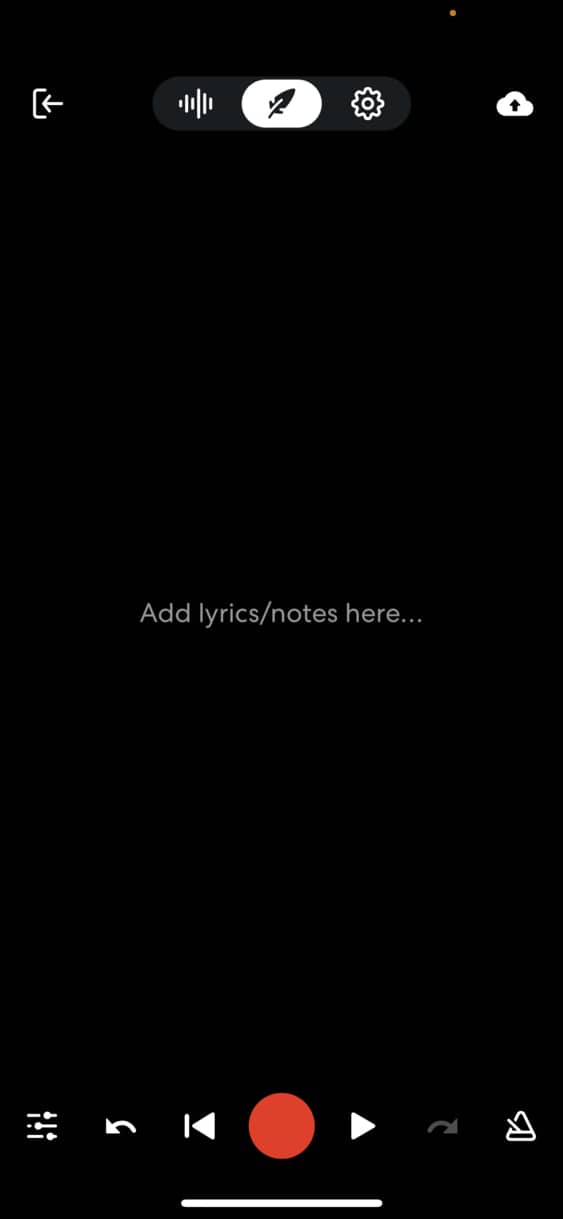 |

Project Settings
All of your project's settings can be accessed by selecting the cog icon at the top of the mix editor. Here you can change your project's tempo, time signature and key, as well as set a count-in, select a microphone input and more.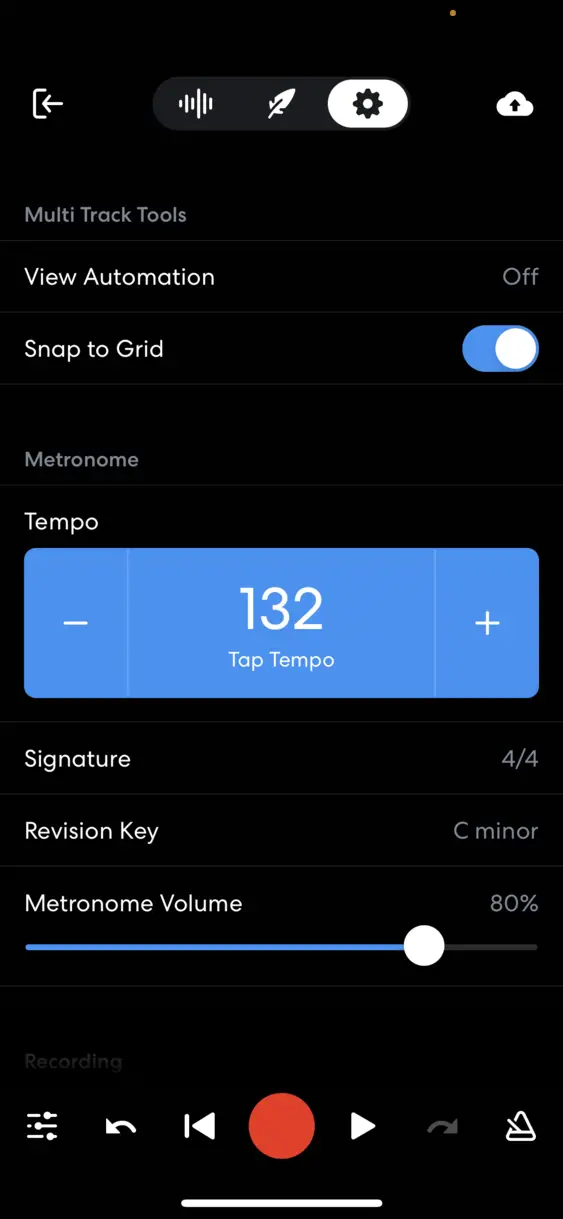 |

Track Options
Import Track – This option makes it possible to import an existing piece of audio from your iOS device into your BandLab project
Sampler – Record and perform your own samples onto 16 drum pads. Create your own kits and adjust pitch, attack, release and tone of your own recordings
Voice/Mic – Record anything into your BandLab project using your device's in-built microphone. Apply FX and automatic pitch correction to vocal recordings
Looper – Select from a library of hundreds of pre-made BandLab kits. Trigger harmonious loops and toggle FX live
MIDI Instruments – Create melodies, chord progressions, basslines and drum beats using one of BandLab's 200+ MIDI instrument presets
Guitar – Plug in your guitar or record using your device's microphone and select from a range of guitar specific FX
Bass – Record bass guitar directly into your project and achieve the perfect bass tone using BandLab's bass FX

|

BandLab's Tools
While BandLab is targeted towards music producers, it comes with a variety of extras designed for performers and instrumentalists. Just when I thought I had explored all aspects of the app, I kept discovering a number of incredible tools including a metronome, a guitar tuner and instant audio mastering.
|

Metronome
The metronome tools is perfect for instrumentalists looking to practice or perform in time. Adjust tempo, time signature and metronome subdivisions by selecting the various plus and minus symbols on-screen. You can also toggle the metronome's sound by selecting the icon in the top right corner.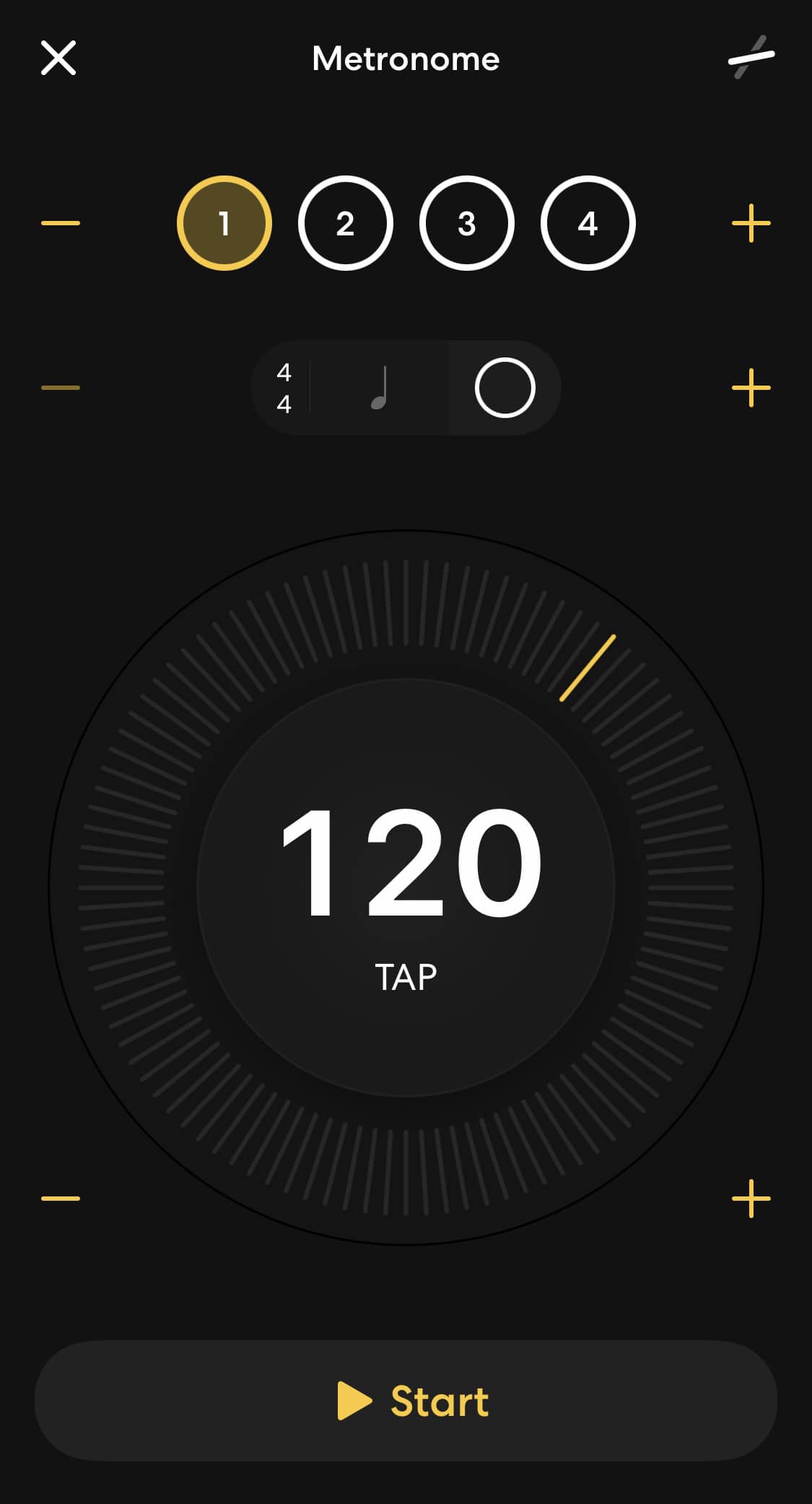 |

Tuner
The tuner tool contains six different guitar tunings, including the option to tune bass guitar and ukulele. Tune your guitar to the standard guitar tuning, open G tuning or D modal tuning. There is also the option to tune any note from any instrument using the chromatic tuner preset. The tuner tool uses your device's microphone so there's no need to plug in any cords.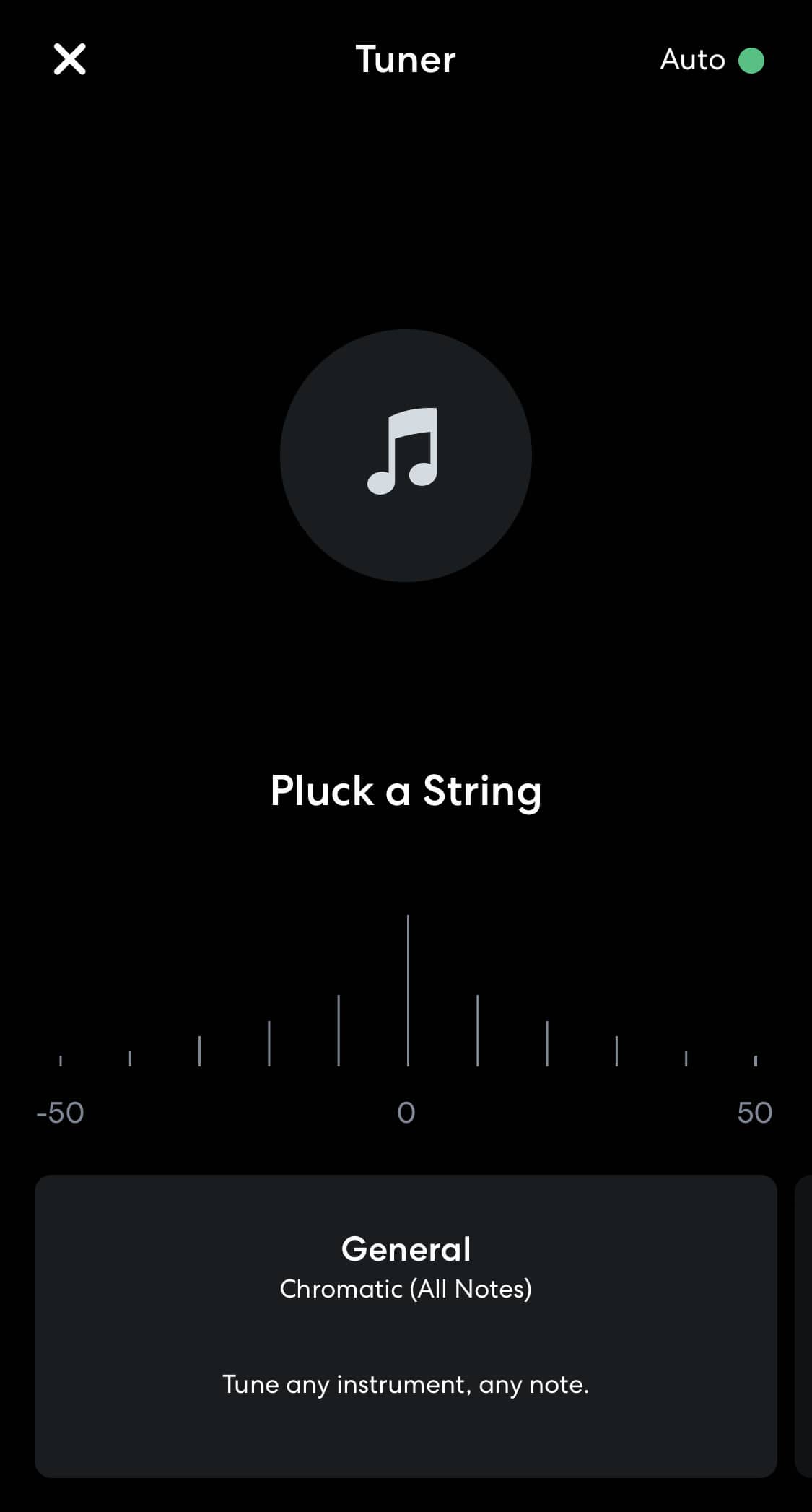 |

BandLab Mastering
BandLab's grammy-winning mastering tool can be accessed from the bottom of the 'create new project' tab. Select an audio or video file from your device's library and choose from four mastering presets. Supported formats include WAV, MP3, MP4 and more. Get your tracks sounding perfect on any speaker system with BandLab's instant mastering tool.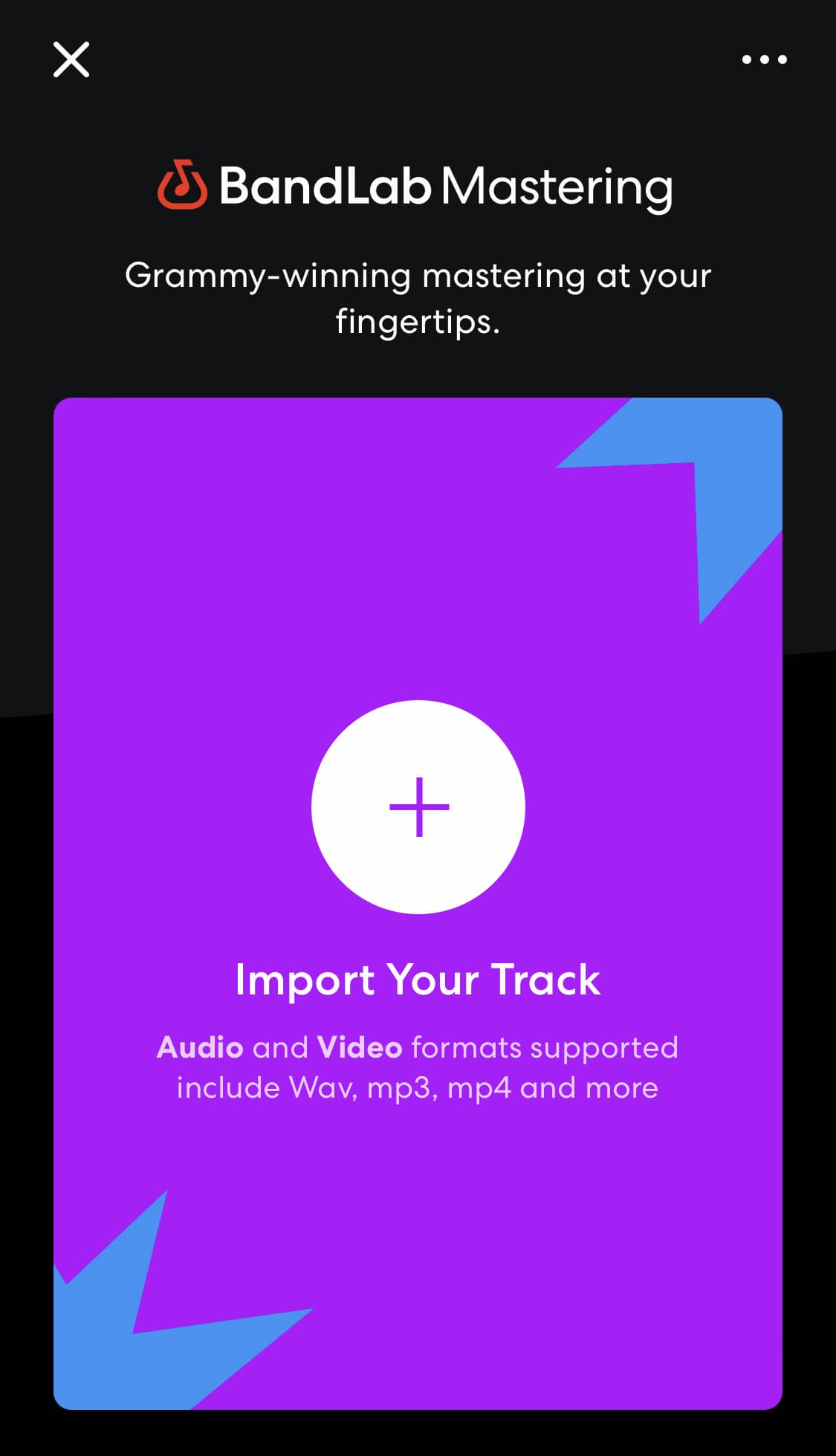 |

Final Thoughts
BandLab is easily one of the most multifaceted and feature-packed music applications on the app store. It has all the same aspects of a major DAW right in your pocket and is 100% free.
Perhaps the only downside worth mentioning is being limited to 16 tracks in the mix editor. If you're planning to layer vocals, record entire drum kits or create complex compositions, the 16 track maximum might cause problems. Other than that, I didn't face any roadblocks or restrictions and was able to experiment, record and produce to my heart's content.
BandLab has the potential to become a serious competitor in the DAW market based on its portability aspect alone. With samples, MIDI instruments, mastering tools and a multi-track mix editor available at your beck and call, BandLab is the perfect accessory for all kinds of musicians.
To download BandLab on an iPhone or iPad, click here.
To download BandLab on an Android device, click here.

Want To Know More?
Here at Live Aspects, we have dozens of useful lessons and tutorials created to enhance your music production skills and help speed up the learning process. You can access our huge range of music theory lessons and production tips and tricks here.