Moises is an iOS application used to isolate and extract the instruments from any song. It uses artificial intelligence to separate a single song into different tracks. This award-winning app is the perfect tool for musicians looking to create remixes, mashups and backing tracks or to perform alongside their favourite songs live.
With more than 9 million downloads and hundreds of 5-star reviews, I wanted to take a look and see what all the fuss is about. Hi, I'm Ben from Live Aspects and in this review, I'll be unpacking all aspects of Moises and helping you decide if this app is for you.
| 

First Thoughts

| 

Look & Feel

| 

Navigation & Ease Of Use

| 

App Overview 

| 

How Well Does Moises Separate Instruments?

| 

How Much Does Moises Cost?

|

Is Moises Premium Worth It?
Without further adieu, let's dive in!

|

First Thoughts
Installing Moises was quick and easy, taking up less than 80MB of space on my iPhone. It took no time at all to fully grasp all aspects of the Moises app and understand the app's layout. After importing my first track, I was extremely impressed with the quality of the separated tracks. Although it took a few minutes to generate, the Moises AI produced an acapella and an instrumental that I knew I could definitely incorporate into a remix, cover, mashup or karaoke backing track.
I continued to import songs using the different separation methods and kept receiving high quality separated tracks. I found the Smart Metronome and Pitch Changer to be very powerful tools that added a whole new perceptive to each song. I was excited to see how I could utilize the different parts of a track in different contexts and simply to hear particular songs without certain instruments.
| 

Look & Feel
Moises' minimalistic design and unique black and blue colour scheme is inviting and facilitates the user experience. It contains intelligent icons and large buttons so you know exactly how to work your way around the app. The app's interface is simple, well organised and designed to inspire creativity.
| 

Navigation & Ease Of Use
The Moises app has been built to maximise creativity and streamline the process of audio separation. It has been expertly designed to help you quickly achieve results, with a large blue '+' button on the home tab immediately inviting you to import a track. Unlike other music apps, Moises doesn't bombard you with any ads or requests to upgrade to premium. The entire Moises app is simple, efficient and easy to navigate.

| 

App Overview 
Library
The Library is where all previously analysed tracks are stored. Once you have imported and separated the instruments of a track, you can quickly open it without having to re-analyse it.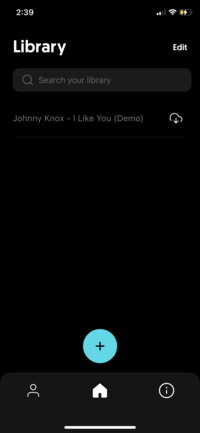 New Song Tab
When selecting the New Song Tab, you will be provided with a number of different locations where you can browse and import music. This includes media from cloud services or public URLs, the iTunes store, iCloud, local tracks from your device and more. Supported formats include MP3, WAV, FLAC, M4A, MP4, MOV and WMA.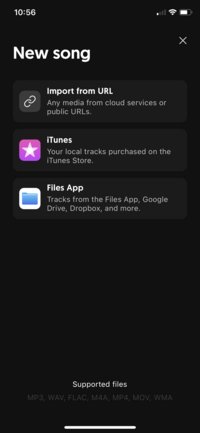 Once you have selected a song, you will have the option to select how you would like your track to be separated. '2 Track Separation' extracts the Vocals and the Instrumental while the '4 Track Separation' option divides a song into Vocals, Drums, Bass and Other. Premium users have the option to separate a song into 5 tracks. Once you have selected a separation setting, your track will begin processing. This can take a few minutes and you will be notified when it's ready.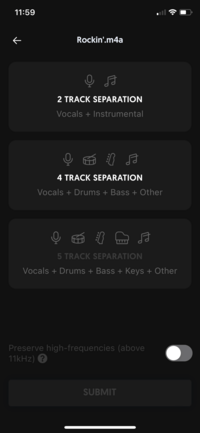 Audio Separation Window
Once your track has been processed, you will be able to preview each of the separated instruments and adjust their volume live during playback. Select the export button to download all of the separated tracks or save the entire track with new volume adjustments. You can export an individual instrument layer by selecting the three dots beside one of the tracks and selecting the download icon.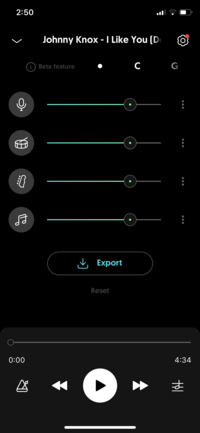 Smart Metronome
Slow down or speed up a track's tempo using Moises' Smart Metronome. The free version of Moises allows you to adjust tempo by +/-10 bpm while Premium users can set a song's tempo to any value between 31 and 250 bpm. .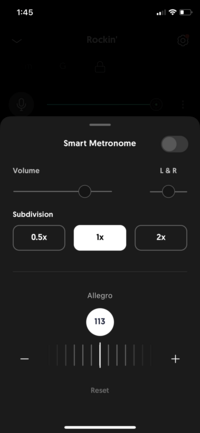 Song Key
The Song Key tab allows you to trial your track in a new key. The free version of Moises allows you to change key by only +/-1 half tone while Premium users can adjust a song's key by an entire octave.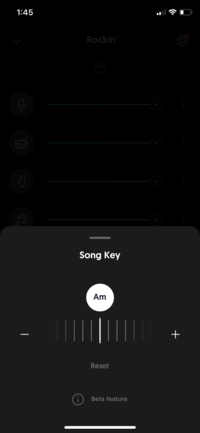 | 

How Well Does Moises Separate Instruments?
Moises does an incredible job separating the elements of any track. Their AI technology does a considerably better job than other applications and plugins on the market. While some tracks may sound cleaner than others, Moises' extraction algorithm produces extremely high quality results that can be utilized in any audio context.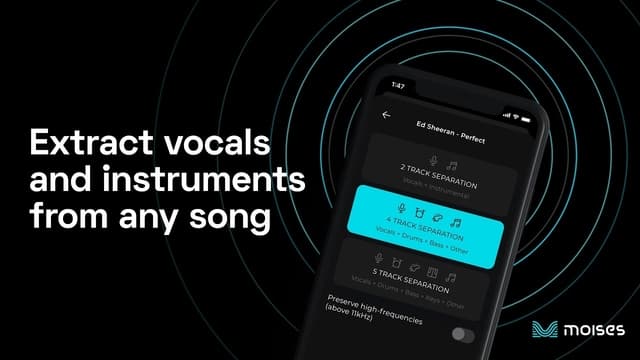 | 

How Much Does Moises Cost?
The Moises app can be downloaded for free from the Apple App Store or Google Play Store. A Moises Premium subscription gives users unlimited access to all features of the app for $3.99 per month or $39.99 per year.
|

Is Moises Premium Worth It?
If you enjoy creating remixes, mashups, covers or performing alongside your favourite songs, I would highly suggest investing in Moises Premium. A Moises Premium subscription removes all limitations and gives you unrestricted access to all features of the app. Moises Premium lets you upload unlimited tracks up to 20-minutes long each and download track stems as WAV files. It also unlocks the full version of the Smart Metronome, Chord Detection and Pitch Changer tools.

To download BandLab on an iPhone or iPad, click here.
To download BandLab on an Android device, click here.
Want To Know More?
Here at Live Aspects, we have dozens of useful lessons and tutorials created to enhance your music production skills and help speed up the learning process. You can access our huge range of music theory lessons and production tips and tricks here.