Drum Pad Machine is a wildly popular iPhone, iPad and Android app that allows users to create professional-quality beats live and on the fly using virtual touchpads. The app has more than 100 million downloads and makes it easy for beginner musicians to create music. Drum Pad Machine comes with hundreds of sound packs from a variety of genres, with new sound packs released weekly.
With more than 900,000 reviews and an average rating of 4.5 out of 5 stars, I wanted to take a look and see what all the fuss is about. Hi, I'm Ben from Live Aspects and in this review, I'll be unpacking all aspects of Drum Pad Machine and helping you decide if this app is for you.
| 

First Thoughts

|

Ease Of Use

| 

Look & Feel

| 

Sound Library

| 

How To Use Drum Pad Machine 

|

Is Beatmaker Premium Worth It?
Without further ado, let's dive in!

| 

First Thoughts
Installing BandLab was quick and easy, taking up around 150MB of space on my iPhone. When I first opened the app, I was immediately prompted to subscribe to Beatmaker Premium but continued to the free version by selecting the 'x' in the top left corner. All areas of Drum Pad Machine were extremely easy to pick up and it didn't take me long before I knew how to make my way around the app.
I spent a good hour or two opening and experimenting with different sounds and I was very impressed by the size of the sound library I had access to. I also enjoyed utilizing different sounds to arrange entire songs using the sequencer. Regardless of the recurring ads, I was very impressed by the experience so far and I was excited to see how my history with other music apps and DAWs could help me get the most out of this app.
|

Ease Of Use
While the app can be downloaded for free, it is meddled with advertisements which made it quite frustrating to use. I found I spent just as much time watching ads than I did actually experimenting with different sounds. Apart the frequent video ads, loading a new sound onto the drum pads is extremely quick and the entire app runs quite smoothly. There is also no delay time between touching a pad and hearing the assigned sound.

| 

Look & Feel
Drum Pad Machine has a minimalistic and engaging design, making it easy to enter a creative mindset and enjoy the app. Each sound is accompanied by a unique and colorful thumbnail that often helps dictate the tone a sound may have. Sound packs are neat and simple, with different sound types grouped by color (eg. drums, synths, leads).
| 

Sound Library
Overall, the quality of each sound pack is quite impressive. There are dozens of sound packs available from a variety of different genres so no matter what type of music you're into, there is something for you. Although a paid subscription unlocks all sound packs instantly, premium packs can be opened for free by watching a video ad. Premium sound packs are labelled with a crown icon in the top left corner.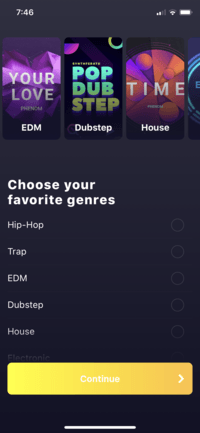 | 

How To Use Drum Pad Machine 
Library
The Library is where you can access all of Drum Pad Machine's sound packs. Press on a sound's thumbnail to load it onto the drum pads or hit the play button to preview it. Packs are categorised by genre and you can view all available packs of a particular genre by selecting the 'See All' button.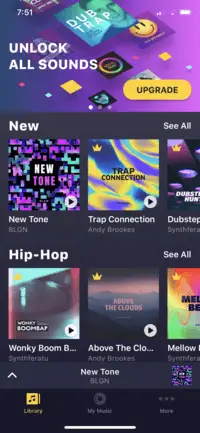 Drum Pads
The Drum Pads are where you can get creative and experiment with sound packs. Sounds typically contain a selection of like-minded drum, synth and bass patterns or one-shots. Each sound pack comes with an A and B side, featuring a total of 24 unique sounds.
Record your performances by selecting the 'Record' button at the top of the screen. Recordings are saved to the 'My Records' folder under the 'My Music' tab.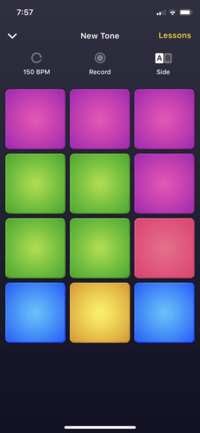 Sequencer
The Sequencer contains a linear 8-beat timeline where users can use a sound's pads to structure a song. Select a pad and pencil in blocks into the 8-beat loop. Selecting this tool also exposes both sides of a sound so users can access all 24 pads. At the top of the window, you can swipe left and right to adjust the tempo that each pad plays back.
|

Is Beatmaker Premium Worth It?
If your budget can handle the monthly subscription fee and the constant ads get on your nerves, go for premium. The free version of Drum Pad Machine gives you access to the same privileges as premium, just with ads, so the benefits of upgrading aren't outstanding. Regardless of which version you decide to accept, Drum Pad Machine is great for musicians of any skill level and is the perfect segue to more professional software or hardware.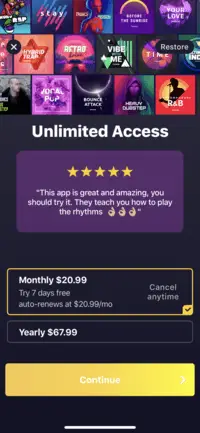 To download Drum Pad Machine – Beat Maker on an iPhone or iPad, click here.
To download Drum Pad Machine – Beat Maker on an Android device, click here.
Want To Know More?
Here at Live Aspects, we have dozens of useful lessons and tutorials created to enhance your music production skills and help speed up the learning process. You can access our huge range of music theory lessons and production tips and tricks here.