Output is changing the way producers create music. In October 2021, the creators of the award-winning virtual instrument Arcade released a free upgrade for its existing users. The second edition of Output's Arcade comes with a plethora of impressive features, including the option to play chromatic instruments and AI-Powered custom kits. Arcade 2.0 contains thousands of kits and samples that span more than 100 sub-genres of electronic dance music.
Hi, I'm Ben from Live Aspects and in this review, we'll be unpacking all features of Output's latest virtual instrument and helping you decide if this software is for you.
|

First Thoughts

|

Look & Feel

|

Sound Library

|

Plugin Overview

|

 Kit Overview

|

Tweak Menu

|

How Much Does Output Arcade 2.0 Cost?

|

Is It Worth The Money?
Without further ado, let's get started!
|

First Thoughts
To start things off, the software was easy to sign-up for and install, taking up just over 1GB of hard-drive space. Being both a VST plugin and a standalone application, I had the option to bypass my DAW altogether and get straight into experimenting with the sounds Arcade 2.0 has to offer.
A short 1-minute video played when opening Arcade 2.0 for the first time, explaining how to navigate around the software. The Feed window then greeted me with the option to learn more about the software by selecting from three walkthrough guides.
From there, I began previewing kits and experimenting with sounds and I found myself hooked to the software for hours to follow. It was extremely easy to pick up and it didn't take me long before I understood how to make my way around the software. I was very impressed by the experience so far and I was excited to see how Arcade 2.0 could be implemented into my own productions.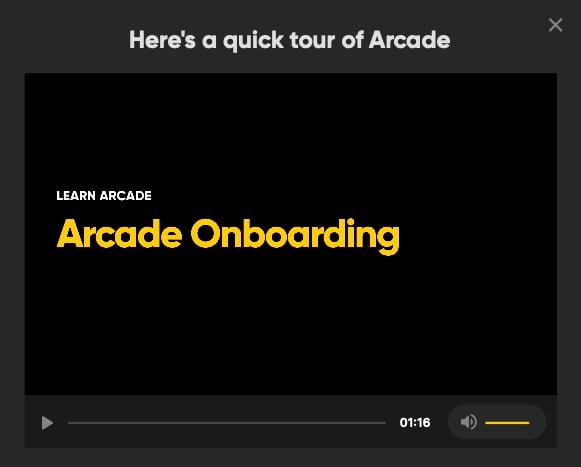 |

Look & Feel
Everything about Arcade 2.0 is colourful, bright and minimalistic. Each kit has its own colour scheme and graphics which makes using Arcade 2.0 much more of an experience compared to using other popular virtual instruments.
Output have made it easy to navigate your way around the application with everything confined to only a select few tabs. It's sleek, neat and easy to navigate user interface simplifies the creative process and makes it easy to explore everything Arcade 2.0 has to offer.

|

Sound Library
Upon touring Arcade 2.0 for the first time, I was astonished by the extensive sound library I had access to and how easy it was to find and download new content. Sampler Kits, Note Kits and Samples can be filtered by genre, instrument, tempo and more which makes it easy to find exactly what you're looking for. Each kit contains a short description, a recommended tempo at which it can be best utilised and a button to preview it before downloading.
The only downside I found was that each Sampler Kit takes up around 50MB of hard-drive space. While Note Kits take up just 1-2MB, installing many or all of Arcade 2.0's content can be heavy on your computer's capacity.

|

Plugin Overview
|

Feed, Search, Lines & Your Stuff Pages
The Feed, Search, Lines and Your Stuff Pages are where kits can be downloaded from and accessed. You can visit these pages by clicking on the four icons in the navigation bar on the left.
The Feed page shows suggested kits, popular and trending kits, kits to get you started and a series of links to walkthrough guides on Output's website.
The Search tab contains the entire library of Arcade 2.0's Sampler Kits, Note Kits and Samples. You can filter through the hundreds of available kits by utilising the instrument, genre, function, description, line and BPM filters.
The Lines page features 40+ kits groups that each contain similar and harmonious elements. If you're looking for a larger selection of related sounds, try downloading Lines.
The Your Stuff tab contains all previously downloaded kits and samples.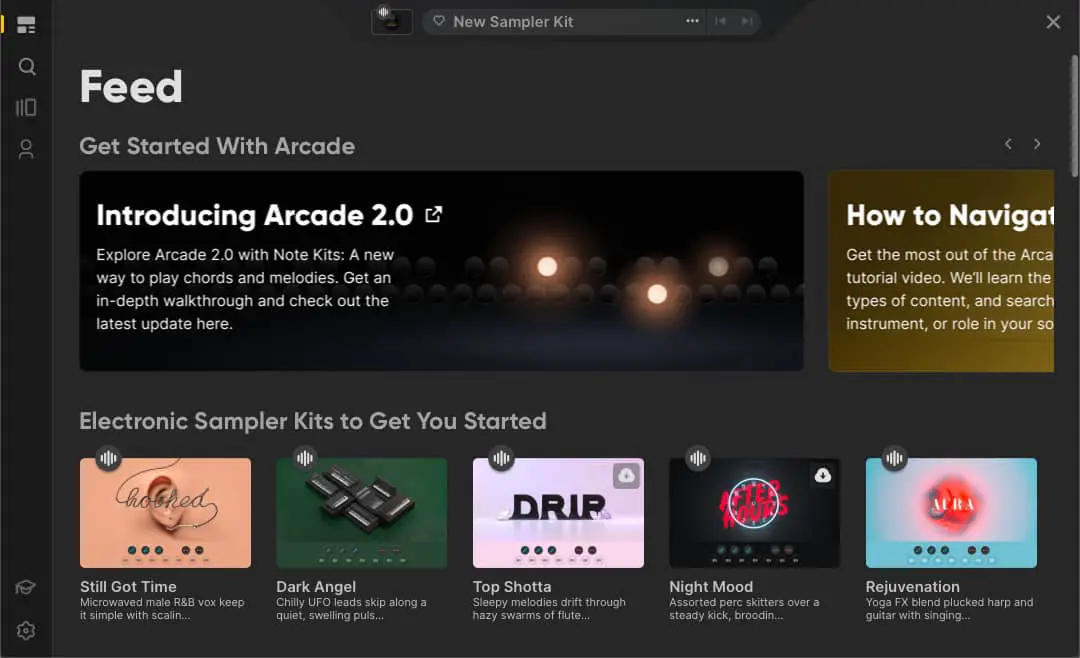 |

Sampler Kits
Sampler Kits are the element of Arcade that sets it apart from other virtual instruments. Each kit is composed of 15 playable loops and splice, with each kit containing similar and related sounds. With immediate access to 4000 Sampler Kits, there is almost an endless amount of content to inspire your next project.
When performing and recording with Sampler Kits, the black keys act as modifier keys. Warp, repeat and rearrange loops using the black keys on your MIDI keyboard or the top row of letters on your QWERTY keyboard.
Sampler Kits can be accessed from the Search page.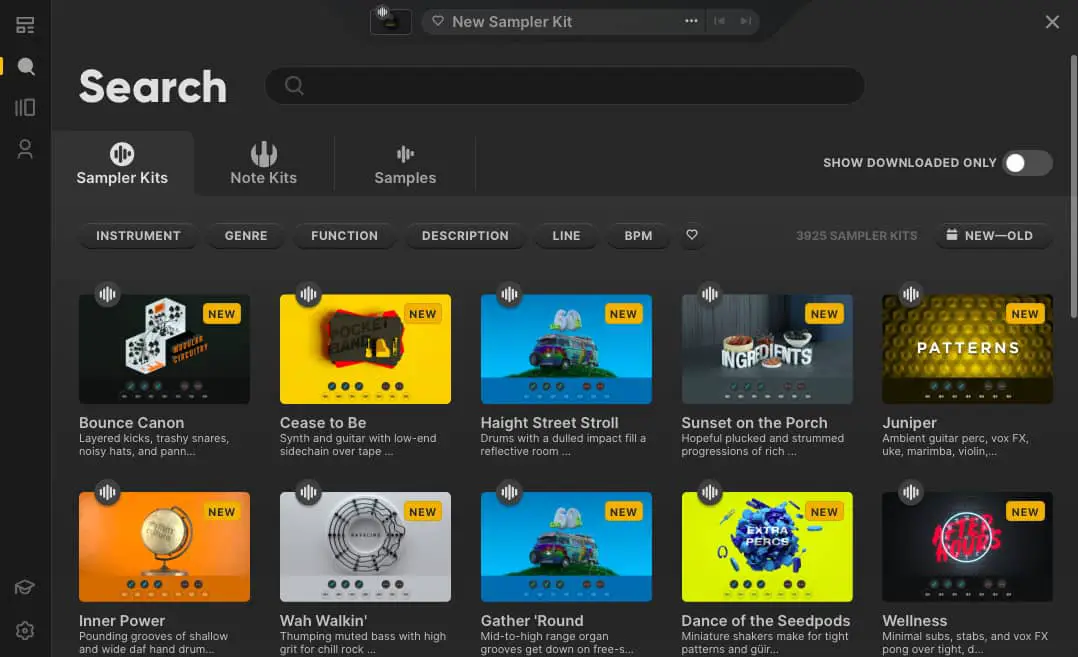 |

Note Kits
Note Kits are perhaps the most significant new feature of Arcade 2.0 compared to Output's first edition of the software. Note Kits work like traditional MIDI instruments, with a single note spread across the keyboard. There are currently close to 800 Note Kits available to preview and download. Just like the Sampler Kits, there are a variety of filters you can use to find a specific kit. Each Note Kit also comes with a short description.
Note Kits can be accessed from the Search page.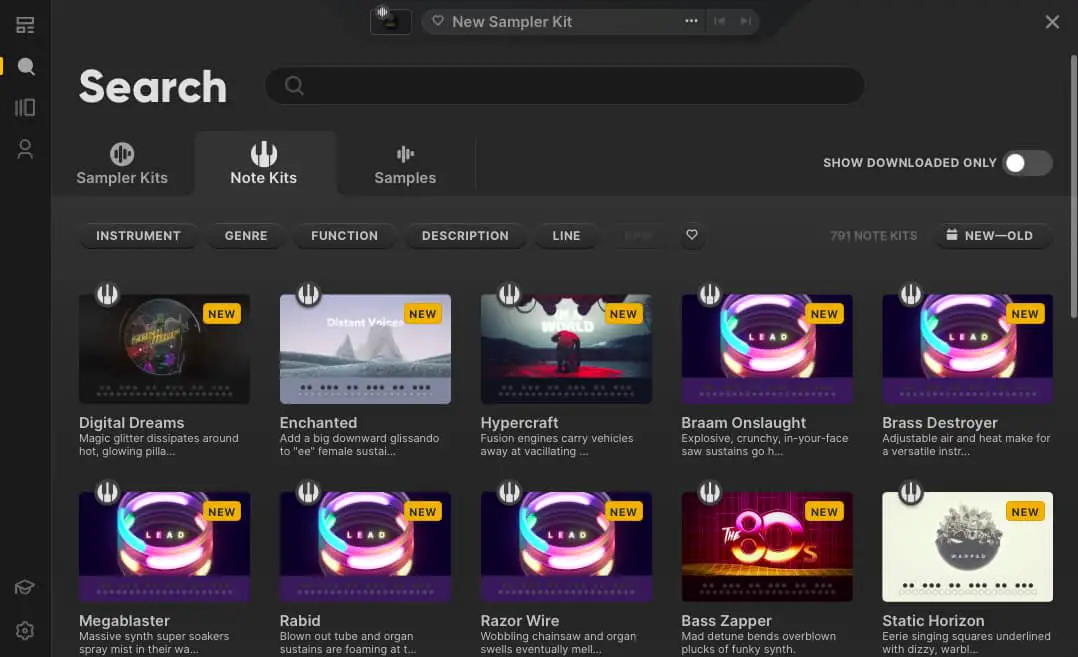 |

Samples
The Samples page hosts an incredible amount of loops and samples that can be automatically sliced into a Custom Kit. Once a sample has been generated into a Custom Kit, it can be edited and manipulated in the same ways as a Sampler Kit. Hover over a sample and select 'Generate Kit' to convert it into a Sampler Kit. You can select from a variety of Sample Slicing Modes and FX Presets before generating a new kit.
Create Custom Kits using loops and samples on your computer's hard-drive by simply dragging and dropping an audio file onto the Samples page.
Samples can be accessed from the Search page.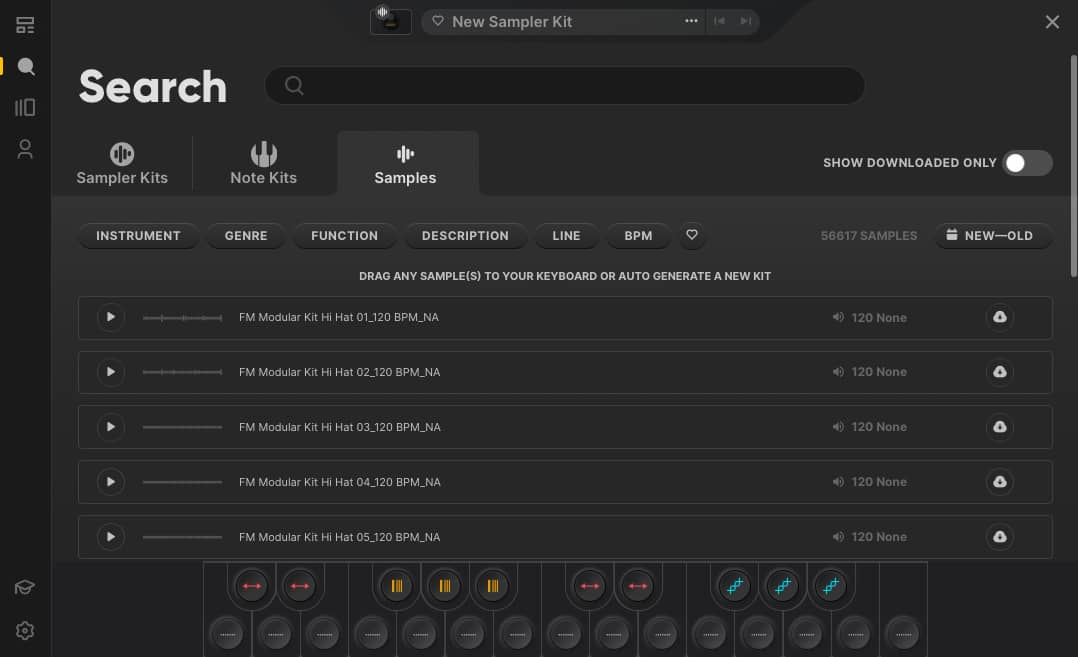 |

 Kit Overview
The kit window is where you can experiment with Sampler Kits, Note Kits and Custom Kits. Here you can modify slices, apply FX and tweak any aspect of a kit.
In the middle section of the kit window are four FX macros that can be switched from the Tweak Menu. The title of the currently loaded kit, as well as arrows to toggle between kits is located at the top of the window. The tempo at which slices are played back can be adjusted in the top left corner of the kit.
At the bottom of the window are two octaves of sample keys that can be triggered by left-clicking or by using a MIDI keyboard. You can also use the keys on your computer's keyboard if you don't have access to a MIDI device. To the right of the sample keys is the ability to set and lock the pitch of each kit so it matches the key of your project.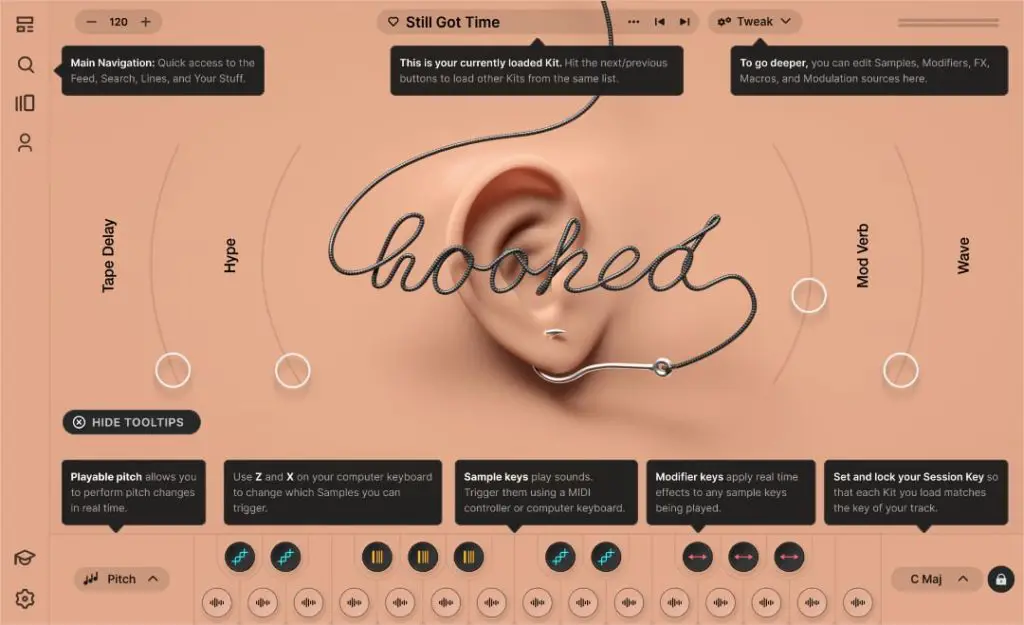 |

Tweak Menu
The Tweak Menu allows you to edit Samples, Modifiers, FX, Macros and Modulation sources for Sampler or Note Kits. You can modify and re-pitch each slice, adjust playback speed, apply a filter and experiment with LFOs. If a Sampler Kit or particular slice is almost perfect, the Tweak Menu can help you achieve exactly what your track needs. It's minimalistic layout, colour scheme and impressive functionality is consistent with the other aspects of Arcade 2.0.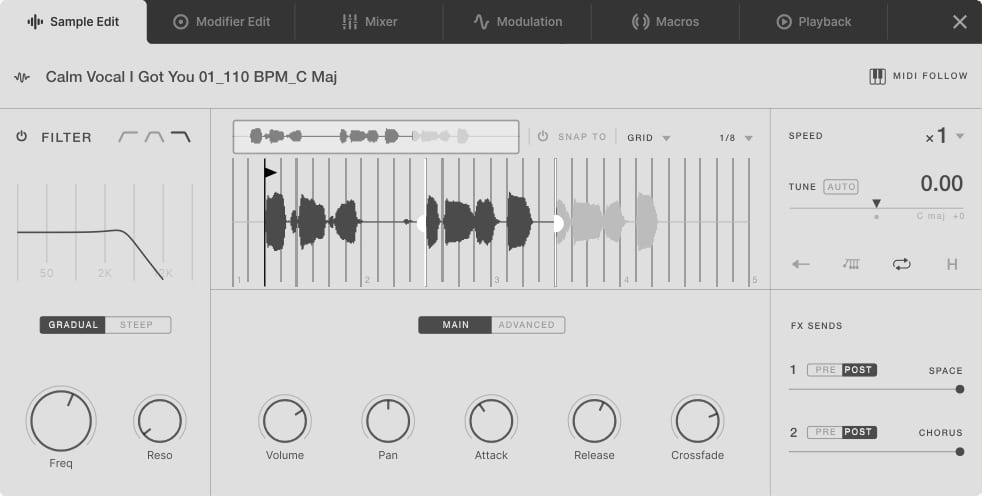 |

How Much Does Output Arcade 2.0 Cost?
Contrary to many popular plugins, Output Arcade 2.0 is a subscription-based virtual instrument. For just $10/month, you can access hundreds of kits, thousands of sounds and daily new content. Output also offers a free 30-day trial so you can try all features of the plugin before committing to the monthly fee. Your subscription can also be cancelled anytime.

|

Is It Worth The Money?
Yes, Output Arcade 2.0 is worth the money. Whether you're experiencing writer's block or looking for additional sounds for your projects, Arcade 2.0 has the content to inspire musicians of any genre. It's generous and professional-sounding library outperforms many of the top selling virtual instruments used in electronic music production. For only $10/month, you'll be sure to spend hours experimenting with this application and quickly find ways to utilize it in your productions.

If you'd like to download the free trial of Output Arcade 2.0 or find out more information, click here.
Want To Know More?
Here at Live Aspects, we have dozens of useful lessons and tutorials created to enhance your music production skills and help speed up the learning process. You can access our huge range of music theory lessons and production tips and tricks here.